2 Must-Have Demolition Rentals
As satisfying as it is to be a part of a construction project, there is nothing quite as much fun as destroying an old building. Whether a building needs to be demolished for safety and health reasons, or if it's being taken down to make room for something bigger and better, demolition projects are very unique. A bulldozer and excavator are the 2 machines that you definitely need to rent when demolishing a building.
What is considered a Demolition?
The actual definition of demolition is "the action or process of demolishing." With that in mind, any project that involves tearing down, knocking down, dismantling or clearing away a structure or part of a structure would be considered demolition. This could involve anything from roads and parking lots to old buildings, multi-story units, large skyscrapers or small residential homes.
Why Are Buildings Demolished?
Buildings or structures can be demolished for any number of reasons. These include:
The building isn't structurally sound and needs to be removed for safety. This could include buildings or bridges. that are at danger of collapsing on their own.

The building isn't needed anymore or is outdated and they are clearing it away for a new construction project.

Environmental impacts from hurricanes and extreme weather to fires and floods can damage buildings, leaving them unsafe.
Whatever the reason for the demolition, these projects need specific equipment and have specific processes in place to keep operators and contractors safe. Excavators and dozers are two machines that help to keep these projects safe and efficient.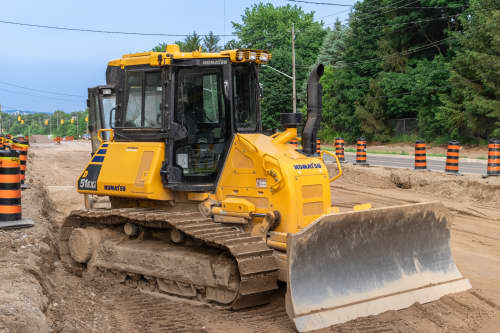 The Bulldozer in Demolition Projects
The bulldozer is an iconic destruction machine: it was literally made to push down walls, break up debris and to clear away rubble. A dozer's blade is made of steel and is specifically designed to use the horsepower of the machine to push through walls, stone, concrete, brick and wood. Because the blade is so strong it's extremely helpful in moving debris during a demolition out of the way and to clear room for other machines.
The back of a dozer is often fitted with a ripper. This claw-like attachment is useful for loosening up packed materials and foundations. Main floors, concrete-poured pads, roads, driveways and parking lots can be ripped apart with this tool.
Bulldozers can't work alone on demolition projects. Because they are limited in their movement and reach, this machine is often paired with an excavator to help rip down walls and tear down roofs.
The Excavator in Demolition Projects
Excavators that are 20 tons or more are the most popular for demolition projects. They have incredible lifting capacities and, since they can be fitted with a number of attachments, can help in many ways. Augers and hammers can help to loosen up soil and pour concrete. Buckets can help to lift and carry debris or to pull down walls. Buckets with thumb attachments can grab and move large beams, pipes and structural elements.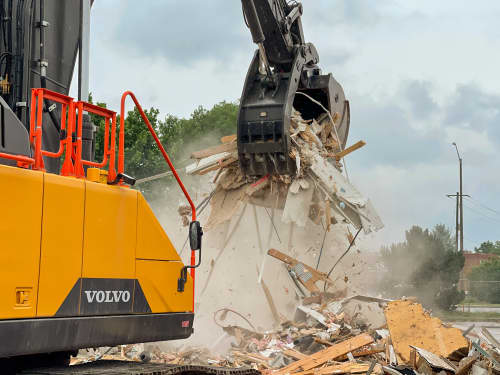 Excavators and bulldozers work together during demolition to tear down buildings or roads and clear away debris.
Other Must-Haves When Demolishing a Building
Demolishing a building isn't as simple as tearing walls down. Material testing and environmental reports are done to ensure that it is safe to tear down the building and that it won't contaminate any of the surrounding soil or dirt. Structural engineers help to plan the demolition so that the project is completed safely.
Communication is incredibly important for all people working on a demolition project. Buildings need to be dismantled in a specific way to prevent any unexpected collapses. Operators, engineers and project managers should be in touch every day and throughout the days.
Other Popular Types of Demolition Equipment
Other machines that you can see on demolition sites include skid steers, long-reach excavators and backhoes. Outside of machines, demolition projects could use include explosives, wrecking balls and other hand tools for more delicate demolition.
Demolition PPE
Although equipment operators are working in cabs and may not think they need extra PPE, demolition projects present a few other dangers that make additional PPE necessary.
Noise Pollution & Hearing Loss
Demolition projects are extra noisy. Clattering machines, falling structures, wood and stone cracking and even possible explosions make it way louder than a traditional construction site. While contractors have many reasons to not enjoy wearing ear protection it still remains one of the most important and unused types of PPE in construction. According to the CDC, about 14% of all construction workers suffer from hearing loss.
Breathing Protection & Masks
Dust, mold and other air pollutants can be more prevalent on demolition sites than general construction sites. Because old materials and structures are being torn down, it adds a lot of debris to the air. Breathing in these particles can be harmful for your lungs. If you work on demolition projects often, masks and air filters can help to keep your lungs and chest healthy.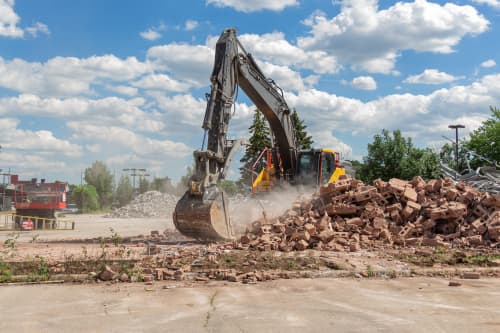 Demolition Equipment Rentals: Making Demos Easier Than Ever
The hard part about demolitions is that specific sized machines or attachments are often needed. If you're a demolition company, then you know exactly what you need and will most likely have the machinery. However, for those odd-job and one-off demo projects, a larger excavator or even an additional dozer might be needed. The beauty in renting demolition machines is that you can still take on those projects without the added cost of buying another machine that you don't really need. Both excavator and dozer rentals are must-haves for any demolition project.