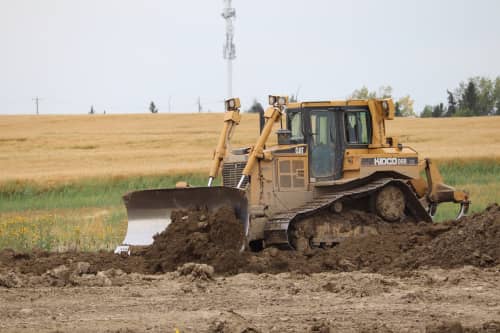 Also called a dozer or crawler loader, a bulldozer and is an ideal piece of equipment for rough terrain.
What is a Bulldozer?
A bulldozer is a powerful demolition and pushing machine that is often used for construction and mining projects. Dozers are used mainly for earthmoving, including digging, excavation and levelling dirt.
Bulldozers move on heavy metal tracks which make it ideal for rough terrain but should not be used on finished concrete or asphalt.
Bulldozers are popular pieces of equipment for road building, clearing a worksite of rubble and debris. Dozers are also great for other forms of heavy-duty maintenance like snow plowing and tearing up asphalt.
Bulldozers for Different Kinds of Projects
A bulldozer can be used for a variety of projects. Since their large flat blades can be used to push and move large amounts of dirt, dozers are often seen in a variety of industries such as construction, mining and farming. This pushing task is the most common use of a bulldozer.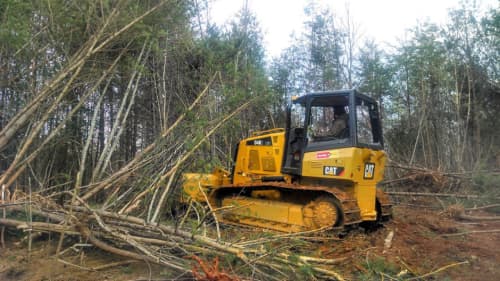 A bulldozer could also be used with other pieces of heavy equipment to effectively and efficiently complete a project. The bulldozer is a great addition for any excavation project and is often used with backhoes as well as other digging machines and earth-moving equipment.
The ability to change the blade type adds versatility and multifunctionality to the bulldozer. Aside from pushing around dirt and soil, a dozer can be used to clear brush and waste to be disposed of. A bulldozer can also be used to load trucks, roughly grade a surface and grind down rocks. They could also be used to clear vegetation before beginning to dig a foundation.
Manufacturers of Bulldozers
There are many different manufacturers to consider when looking to rent or buy a bulldozer. Many modern bulldozers have state-of-the-art technology built in to the machine and most companies make different sizes and models of bulldozers to accommodate any project. A variety of bulldozers are available for rent, from 15,000 lbs up to 200,000 lbs, all of which are available on DOZR. The following is a look at some more popular brands of bulldozer manufacturers.

Caterpillar was founded in 1925 when C. L. Best Tractor Company joined with Holt Manufacturing Company – the same Holt responsible for the continual-track system.
The name Caterpillar was thought of much earlier by Benjamin Holt himself when he named his newly invented tracked machine "caterpillar" for how it crawled along the ground. The name followed him when Holt Manufacturing merged with C.L. Best and the company of Caterpillar (also known as CAT) was born.
Caterpillar is one of the most recognized brands of heavy equipment and machinery. With over 110 manufacturing facilities worldwide and almost 24 different types of vehicles, there is no piece of equipment too large or too small to be a CAT.
Caterpillar manufactures many kinds of dozers. Their small dozers all fall under 105 hp and are designed to optimize transportability and speed while their medium dozers are designed for versatility and productivity. The D3K2, D4K2 and D5K2 are some of their smaller models while the D7E and D6 models represent their medium-sized dozers.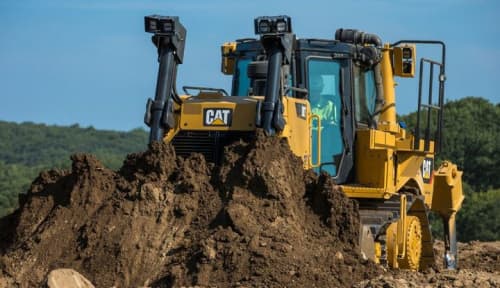 Founded in 1949, the Swiss company Liebherr Group was created by Hans Liebherr. He began building airplane parts and tower cranes and has since expanded the company to digging and mining equipment. Loaders, dumptrucks, telescopic handlers (telehandlers) and excavators are just a few of the pieces of equipment now made by Liebherr. Liebherr also makes bulldozers.
Designed with performance, efficiency, comfort and reliability in mind, Liebherr offers a variety of crawler tractors. The PR 716 and 726 Litronic offer travel speeds up to 11km/h and have operating weights up to 20,000 kg (44,092 lbs). The Pr 776 Litronic is one of their largest dozers with an operating weight of 73,189 kg (161,354 lbs).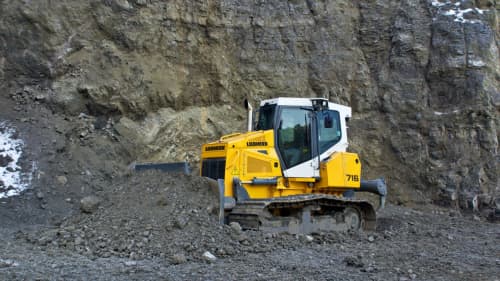 Komatsu was founded in Japan in 1917 and established in North America later on in 1970. Named after the city of Komatsu in the Hokuriku region of Japan, the name "Komatsu" translates to "little pine tree" in English.
Now one of the world's leading suppliers and manufacturers of heavy equipment and the second largest producer of machines, Komatsu is anything but little. Komatsu manufacturers equipment for all different industries including mining, construction, forestry and compact construction.
Komatsu produces small dozers (70 – 150 hp), mid-size dozers (151 – 260 hp) and large dozers (261 – 500 hp) as well as mining dozers (500+ hp). Their D155AX-8 is one of their large dozers and is now available with remote-control capabilities.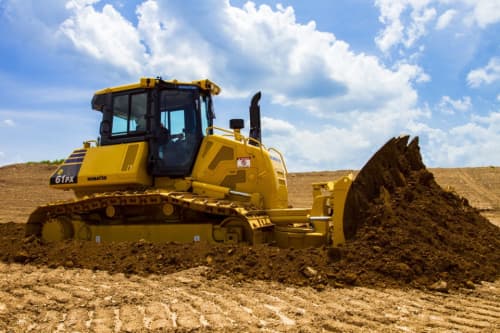 John Deere established his company – named after himself – in 1837. Originally John Deere was a blacksmith and invented the polished steel plow to help prairie farmers turn the hard soil of the American Midwest. Since then John Deere & Company has grown significantly becoming a leader in the industry.
Growing from the plow, JD & Co. now offers a large variety of heavy equipment, including a few types of crawl loaders. It manufactures small dozers like the JD 450K with 80 hp and an operating weight from 8,522 kg (18,752 lbs).
It's largest dozer is the 43,100 kg (95,000 lbs) 1050K crawler dozer with 350 hp. No matter the size of a job, John Deere has a dozer for it.
Popular Makes Of Bulldozers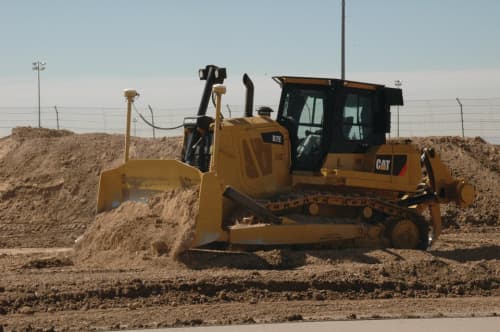 The Cat D7E features a 238-hp engine designed to be more fuel-efficient and reduce emissions. With a diesel-electric powertrain, this machine earned the Clean Air Excellence Award in 2009 from the U.S. Environmental Protection Agency.
The John Deere 700K features 130 hp at 1,800 rpm and has an operating weight of 13,733 – 14,193 kg (30,275 – 31,290 lbs). All K-Series Dozers from John Deere have a standard Eco mode for better fuel efficiency and spacious cabs designed to reduce noise and improve comfort.
Able to support a blade width up to 168 inches, no job is too small or too big for a John Deere 700K.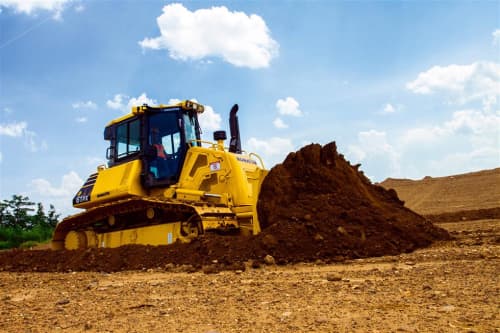 A popular mid-sized dozer, Komatsu D61EX and D61PX feature net horsepower of 168 and 125 respectively, both at 2200 rpm. With operating weights from 40,830 – 43,000 kg (94,798 lbs), these Komatsu bulldozers feature increased versatility and improved fuel economy to improve operational efficiency with lower fuel consumption.
Safety Protocols for Operating a Dozer
Operating any kind of heavy equipment could pose a safety hazard. It is important to always be careful and to only operate a piece of heavy equipment after receiving proper training. Bulldozers are incredibly powerful machines and incorrect or misuse can create a dangerous situation.
Make sure to report any safety hazards and have any needed repairs performed immediately.
Always Set the Parking Brake When Leaving a Bulldozer Unattended
Always using the parking brake on a dozer ensures that the equipment won't move or roll without someone to control it. This step is especially important if a machine is kept in neutral.
Taking the time to fully turn off the equipment when leaving the cab of a dozer can ensure that the machine is stable and won't move.
Operate a Bulldozer With Caution When On Uneven Terrain
Try to keep the tracks straight up and down on a slope and be mindful of the equipment's center of gravity. Bulldozers are not as safe to operate on frozen ground or loose rocks. Always wear a seatbelt when operating a bulldozer or any other kind of heavy equipment.
Always Check the Blind Spots of a Bulldozer
Be aware of the surroundings and always check blind spots before moving heavy equipment. Use spotters and take advantage of modern tech to achieve the best visibility possible.
Always Wear Proper PPE While Operating a Dozer
Hard hats, safety shoes, hearing protection, safety clothing and reflective vests must be worn. Even when sitting in the cab of a bulldozer, personal protective equipment (PPE) should always be worn.
Stay visible and remind others on-site to take extra caution when working around heavy equipment.
Keep Up With Preventative Maintenance and Upkeep of a Dozer
Like any vehicle or piece of machinery, prevention is important. Inspect the track of a bulldozer and take care of the undercarriage to ensure a long lifespan of a machine.
Be sure to perform daily circle checks and take updated photos of equipment in case an accident does happen.
Do You Need Training To Operate a Dozer?
In the United States, OSHA – Occupational Safety and Health Administration – does not provide certifications for heavy equipment operation but does require an employer to provide training and instruction. Any employee tasked with the operation of heavy equipment must receive training in:
Safe operation of equipment

Recognition of unsafe conditions

Avoidance of unsafe conditions
OSHA mandates that only those employees that have had proper training may operate equipment.
The most important point to remember for any operation of heavy equipment is to only do so if this training has been provided and it is safe to do so. Always request training before agreeing to operate a piece of new machinery. Put safety first and take training protocols seriously.
The History of the Bulldozer
The bulldozer was not invented as a whole but came together in bits and pieces over the years. The tracks which are associated with the bulldozer were created by Benjamin Holt of the Holt farm for a tractor.
In 1904 Holt developed the track to allow his steam tractor to be more versatile in soft and uneven terrain. The way the machine crawled along reminded him of the movement of a caterpillar. Because of this he dubbed his new machine "Caterpillar".
Two centuries earlier, in 1713, a Frenchman had developed a trailer that was pulled by goats which featured a crawler-tread. His name was M. D'Hermand. There were two other men – George Cayley of Britain and Dmitry Zagrayazhsky of Russia – who also worked to develop a continual-track system for equipment. Neither one of these made it past a design and prototype stage, unlike the product from Holt.
The Invention of the Dozer Blade
The blade that makes a bulldozer a bulldozer was designed by two men: a farmer named James Cummings and a draftsman named J. Earl McLeod. Their design was a large flat metal blade that would go on the front of a tractor. The patent for this invention was issued on January 6, 1925 as an "Attachment for Tractors".
The Creation of the Bulldozer
It was the work of Benjamin Holt, James Cummings and J. Earl McLeod which came together to create the bulldozer. The continual-track created by Holt was later applied to tanks in World War I followed by the adaptation for all kinds of heavy equipment later on. It was the addition of the blade which lead to the bulldozer now used all over the world.

By the end of 1929, there were three main bulldozer blade types that have been developed: the flat metal blade for spreading dirt, the curved U-blade for pushing and carrying dirt, and a brush rake for roots and brush.
The Modern Bulldozer
Today, the bulldozer has many functions and is a staple for many kinds of projects. Their strength, size and power make them the go-to equipment for any kind of demolition or earth-moving task. Dozers are often seen in mining, farming, road work and excavation projects.
Can a dozer get stuck?
Yes, a bulldozer can get stuck. Because bulldozers are fitted with tracks instead of tires, they distribute their weight more evenly and are better for working on soft ground. However this does not mean that bulldozers cannot get stuck in soft ground or mud. It can happen and dozers can be difficult to get out once they are stuck.
There are six steps that can be taken to prevent a dozer from getting stuck:
1) Always examine the worksite plans before starting a project. Be aware of drainage ditches, cisterns, or other holes and caverns. A bulldozer could fall into these and get stuck.
2) Walk the site before bringing out any heavy equipment. There may be debris or other hazards that are not noted on a site map that could pose a danger to a bulldozer or any other equipment types
3) Look for hidden sinkholes, really wet spots or big patches of water. Pay special attention to low and uneven ground.
4) Poke the ground. If a stake can easily be pushed into the ground by hand then a bulldozer will most likely sink.
5) Get a bulldozer that matches the size of a job. Smaller bulldozers may be cheaper to rent and to fuel and are easier to remove if they get stuck. Do not opt for a giant bulldozer if it is not needed for the job.
6) If it does not feel safe to use a dozer, refrain from doing and wait until the site conditions improve.
Can I rent a bulldozer?
Yes, bulldozers can be rented. Dozer rentals are available by daily, weekly, or monthly rentals depending on your needs.
How much does it cost to rent a dozer?
The rental cost of a bulldozer varies depending on the location, length, and size of the rental. A mid-sized rental of a general-purpose dozer could range anywhere from $2,100 – $2,400 CAD. In Florida, a mid-sized dozer rental for a week could cost around $800 – $1,200.
Can a dozer remove tree stumps?
A bulldozer can be used to remove tree stumps. There are a number of guides and videos online that can be used for a reference on how this can be done.