Betty Williams once said, "there's no use talking about the problem unless you talk about the solution." The need to approach any and all problems with a solution is what drove Jim Colvin, CEO of Serious Labs Inc., to become the man he is today. What started off as coding spreadsheets has evolved into a career which uses technology to save lives, making the construction industry safer than ever.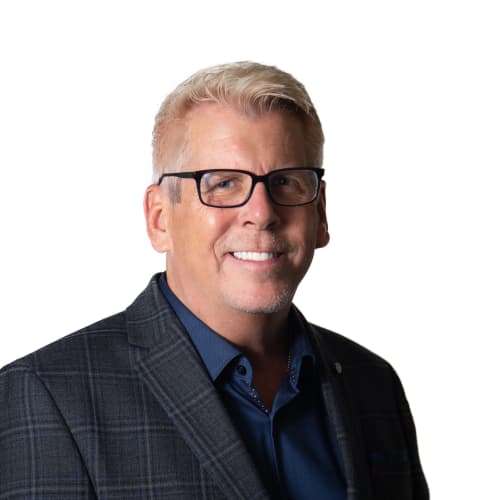 Hosting an educational session at Con Expo titled Virtual Reality, Augmented Reality, and The Future of Work: Are YOU Ready for New Realities? Jim Colvin will be exploring how virtual reality can help to train the next generation of employees. But Jim's purpose goes beyond training the upcoming workforce. His passion is to revolutionize the safety practices and make safety technology accessible to everyone in the industry.
DOZR sat down with Jim to learn more about technology and construction, how he got involved in the tech industry, and how he thinks virtual reality can save lives.
Using Technology to Solve Problems
The relationship between Jim and technology is a tale as old as time. What started off as creating spreadsheet programs turned into a passion for solving problems using the power of technology.
"I realized where my interest in technology was when we saw computers go from big mainframes to small computers and then with… the internet and search engines. That was a switching point for me in the early 90s. I was looking at what netscape was doing to create browsing and using this network of information that was out there on the wild world wide web. . . [It] was fascinating because that really said to me that this will change how we do everything, forever, from now on. "
How A Passion For Technology Merges With A Passion for Law
This passion for technology helped to stear his career early on. As he witnessed technology advance and the internet change, he decided to join his law degree with this rising presence of technology in our lives. He changed his law major to intellectual property law and technology in order to answer the philosophical questions that the world began to ask.
Questions like "What are the boundaries of technology?", "What role should technology play in our daily lives?" and even, "Just because we can make this happen, should we?"
"All of those [types of] questions became quite philosophically interesting from a jurisprudence point of view. So that's why I ended up actually specializing in technology. "
The Beginning of Serious Labs
Throughout his law career, Jim was involved in many tech companies. He would sit on different boards and offer advice on management and legal issues. At the same time, the large law firm he worked for was involved with many companies in the oil and gas industry in Alberta, Canada. He saw first hand how these companies tried to lean on technology and digital tools to help solve problems they were facing.
Gaining exposure to this industry and the problems they were hoping to solve using technology started to build Jim's interest in the construction tech sector. At the time, however, he didn't think much of it.
Upon leaving the world of law he started to seek investment opportunities in technology. It was then that he came across a small tech company in Edmonton called 3d Interactive.
"I saw that they were working on simulation using game engines – video game engines – instead of traditional ways of building simulators. I thought that was fascinating because they could do it so much quicker. The platform they were using was generic, they weren't trying to make everything unique to them but it was about leveraging any kind of third party technology that they could bring into the mix in order to deliver the best product outward. I looked at them kind of like their secret sauce wasn't the factory itself, but how they assembled it."
Partnered with a few others, Jim invested and took over the CEO role in what soon became Serious Labs. What started off as a company of ten in a little room above a wig shop in Edmonton has since grown into a large, multi-national company.
"[We were] all these little nerds typing away while people were coming in to buy wigs downstairs. Today [we have] about 80 employees, with a UK office that handles our international operations as well as our main studio headquarters in Edmonton."
Solving the Biggest Problem in the Construction Industry: Safety
His interest in technology began as a desire to solve problems using new tools. This continued to drive him through his career.
"Everything back in my mind was always about trying to figure out a way to give back by solving big problems that the world doesn't see as a problem just yet."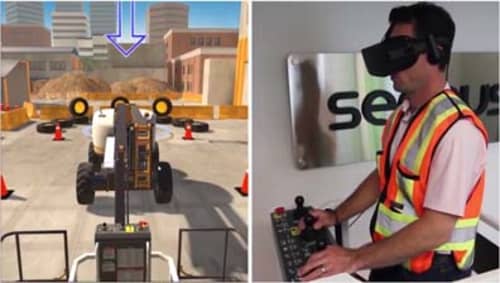 For Jim, construction and safety are some of those problems. Throughout his law career, he saw oil and gas companies work to use digital tools to help solve problems. As he left law and started down a path of investment, this desire to solve problems naturally fell to safety and construction.
Why was Jim so passionate about making safety accessible to all levels of the construction industry? Well, that's a bit of a personal story.
"My father was a heavy equipment operator up in the Yukon when he met my mother who was an educator, I already had those two leanings into my life. I grew up in a small industrial town on Vancouver island where most people worked with their hands. A lot of my friends didn't graduate highschool, they went to work in the bush and made as much money as my dad. I saw what it was like and I lost friends because of those jobs. I lost friends in logging accidents. I'm not trying to be morose but I was a pallbearer three times by the time I was 19."
Safety in construction is a real problem that impacts so many lives. Using the power of Virtual Reality and technology, Jim and Serious Labs hope to help solve this problem.
"There're bad things that happen when inexperienced people and unqualified people are on or around heavy equipment on a chaotic job site. What VR does is we're able to replicate dangerous situations and then test [someone] in those situations and teach [them] all the best practices."
The Major Issue of Safety in the Construction Industry
Jim identified two key reasons that the industry needs to update it's training programs and should use technology to do so. The first is the need to update training programs for the tech generation which is entering the construction industry.
The second is to provide a risk-free training environment that makes it safer for everyone to go into work. Construction is one of the most at-risk industries for workplace safety accidents. No one should go to work fearing that they could get hurt – or worse.
"There's a major transitioning workforce where thousands of people are retiring every day, taking their knowledge with them. You've got young people coming into the workforce that don't know what it's like before high speed Internet and smartphones. They grew up with access to tools like VR (virtual reality) and AR (augmented reality). Even when it was just in the early stages for game applications, they've got it."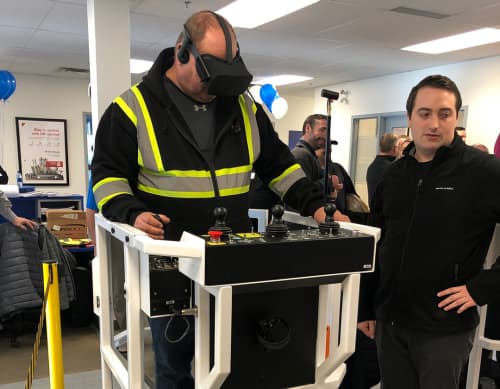 The need to speak to this new generation of workers is a big part of why using a new method of training is needed. But there is another, larger part that shines on the bigger problem facing the industry: safety.
"It simply shouldn't be so risky to go to work. It's not like that in the airline industry or aerospace industry – Even the military has already figured this out. [Y]ou let a guy practice over and over again, or you assess him before he even gets on a machine to see he's capable of operating safely. With VR, you do it in a danger-free, consequence-free environment where it's okay to try and try again."
Serious Labs To Help Improve Safety in the Construction Industry
The biggest way that virtual reality can change the industry is not only by making training safe and consequence-free, but accessible to anyone, everywhere, regardless of budget or time. The ability to put people in machines in a safe, risk-free environment through virtual reality means that safety training can happen in a worksite trailer, in head office, and with or without access to physical equipment.
"We build the learning curriculum and the learning outcomes in the product itself to apply to the industry problem. Safe, competent and efficient operation of heavy equipment and beyond [is the goal]. I'm a sincere believer that this safety training and competency assessment… should be available to everyone – not just the elite or the people that can afford it.


Whether it's… a trade school that has access to this type of technology so new kids coming through can get on them, try, practice and be better, or it's a big organization that can afford to have its own training center full of them. That to me is the democratization of technology to solve a real life-and-death problem. This is the difference between people putting themselves in danger and not."
Making Virtual Reality Accessible
For Jim, a big part of the future of Serious Labs is to continue to work with partners to drive down the price of virtual reality to make it accessible. Whether providing it to classrooms or corporations, like mentioned before or making it available at shows such as ConExpo for training, the goal is to get more and more people trained using this platform to make the industry much safer.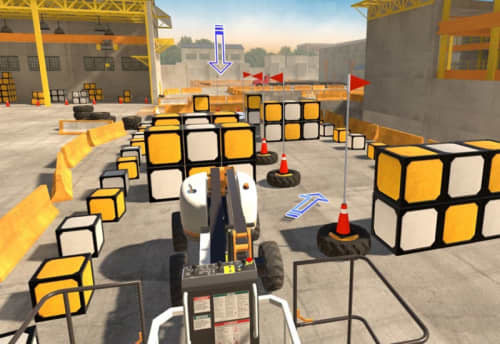 "There's so much room for advancement in this industry. There's a lot of really smart people that recognize that things need to change, in particular when it comes to safety and competency by using these technologies. Now our price is coming down to a point where they can be applied generally for blue collar workers everywhere. That's a real passion of mine.

I wonder how many times my dad got on a piece of equipment that he'd never been on before, but that was the job he had to do that day in order to feed his family. Imagine if there was a trailer sitting right outside that job site that had a training tool like Virtual Reality? What if they could say, "Hey Keith. Before you get on that machine, just jump on this for a half an hour and see how you do." And then after that half an hour, check to see if they are comfortable enough, and capable enough to actually use that machine.

I wonder how many lives saved or how many injuries would have been prevented? How much downtime on a site for incorrect equipment use or injury could be avoided? I think that the construction industry and site owners are aware that safety is paramount on site. They're going to start demanding that everybody on site has proper training and that their competency [on equipment] has been verified."
Learn More About VR and AR from Jim at ConExpo-CON/AGG
How can new technologies help find qualified employees? How can employers help to fill skills gaps as the industry evolves? Get these questions and more answered in his educational session, "Virtual Reality, Augmented Reality, and The Future of Work: Are YOU Ready for New Realities?" at ConExpo-CON/AGG on Thursday, March 12.