A skid steer is a piece of equipment that can be seen on almost every job site. Also called a Bobcat or skid steer loader, it is the job site workhorse.
This type of heavy equipment is available with a track or wheels. It is a smaller piece of equipment with a metal structure and two lifting arms on each side. Its compact size makes it a popular machine in smaller work projects and locations.
The cab is often caged and a more popular attachment is a bucket. That being said, it can also be fitted with a number of other attachments like a sawtooth bucket or an auger. Read on to learn all the different kinds of attachments for this heavy machine.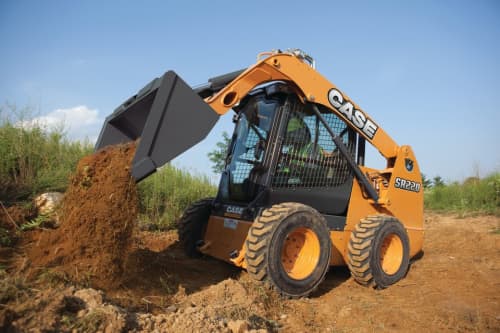 The Basics of a Skid Steer
No matter what your project is, you can find the most efficient skid steer for you.
This piece of equipment is capable of many different jobs including dozing, grading, digging, lifting and transporting materials around site. They are also a great machine for snow removal.
The small size and maneuverability makes it an efficient tool for projects in smaller work areas with limited space. It's safe to say that they are a multi-purpose, multi-terrain piece of equipment that help to keep a project moving.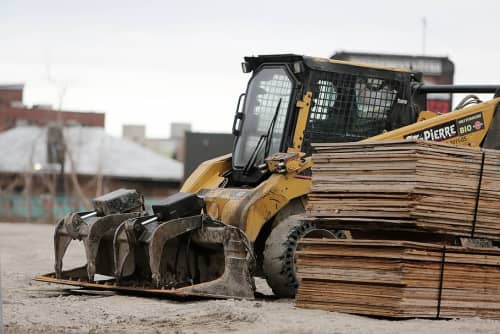 A Machine for Different Kinds of Projects
The skid steer has dual hydraulic arms which give it a great lifting capacity. These small but mighty machines are capable of lifting anywhere from 1,250 lbs to 2,700 lbs.
They are best used for lifting and moving heavy material. If your project is based in construction, landscape, agriculture or anything in between, a skid steer can help you.
Attachments for Skid Steers
Different kinds of attachments help to diversify the capabilities of the equipment. For spring, summer, winter, or fall, it can help increase productivity and add a level of efficiency in all kinds of project types.
Skid Steer Attachments for Material Moving
Moving material is the main job of a skid steer. Smooth buckets make it easy to move soil or other materials. It is faster and easier than doing so by hand and adds a level of efficiency to any job.
Skid Steer Attachments for Digging
When hand shoveling would take too long but the job is too small for a compact excavator, then this attachment may work best for you. Sawtooth bucket attachments for skid steers are great for digging in rocky landscapes, hard-packed soil or when digging right into the ground.
Skid Steer Attachments for Grabbing
Available in many shapes and sizes, grapplers feature retractable claws for gripping and grabbing. Mainly used in construction sites for moving larger objects and debris, farmers can also make use of this attachment for pulling stumps and carrying logs.
Skid Steer Attachments for Snow Clearing
Steel rotating augers make plowing through deep-packed snow easy. Skid steers can be used to clear heavy snow when paired with a snowblower attachment and can be great for narrow spaces like sidewalks or between buildings.
Skid Steer Attachments for Clearing
A dozer blade attachment can be added to a skid steer to help with landscape grading and pushing heavy loads. If the job is too small for a dozer then the skid steer can fill that gap.
Other Attachments for Skid Steers
While these are the most popular attachments, the skid steer can also be fitted with concrete breakers, auger drills, tillers and mowers. It would be more difficult to find a job that the skid steer can't help with than one that it can.
Tracked vs Wheeled Machines
Skid steers can be fitted with a continual track system made of rubber or metal, or they can be fitted with wheels. Both kinds are readily available for rent. This is key to having the best equipment for the job as tracked and wheeled machines are both better suited for specific jobs.
When to Use a Wheeled Skid Steer
Wheels work best for even ground. When moving over hard terrain or finished concrete, wheels are much better fitted than a track. Wheeled skid steers also cost less to maintain.
Wheels in general cost less money and they are more fuel-efficient. They generally require less maintenance and do not break as easily. It is much easier to clean the undercarriage of a wheeled skid steer than a tracked one meaning that preventative care is easier to maintain.
When to Use a Tracked Skid Steer
A tracked machine is better for challenging terrain types. Snow, mud and sand are easy to soar over with the powerful track. They were built to master uneven terrain and slopes since they disperse their weight across the tracks instead of isolating it to four wheels.
If the job is going to be muddy and messy by nature, choosing a tracked skid steer will help keep efficiency and productivity up since it won't impact the effectiveness of the equipment.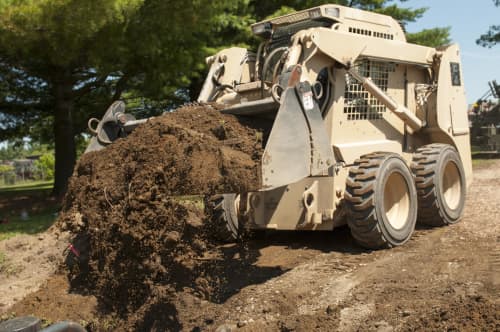 The History of the Skid Steer
Skid steer loaders are synonymous with the brand Bobcat but they also have a few other names. They are also known as compact wheel loaders or compact track loaders. Skid steers are available with both tracks and wheels.
The very first skid steer was invented in 1957. It started off as a three-wheeled loader invented by Louis and Cyril Keller, two brothers from Rothsay, Minnesota. Louis and Cyril were approached by a local turkey farmer who asked the brothers to invent something to help him move around his farm. The three-wheeled machine was the outcome. They called it the Keller Loader.
After this initial invention, word of the three wheeled machines spread and the demand for the Keller Loader grew. Melroe Manufacturing bought the rights to the machine in 1958 and the brothers worked in development for the company to mass produce their invention.
The "bobcat" name apparently become associated with the machine in 1963 when the M444 Melroe Bobcat was first released. The "tough, quick and agile" definition of a bobcat fit the equipment perfectly and a name was born.
Other brand names such as CASE, CAT, John Deere, Kubota and Komatsu have released their own version of this machine.
Manufacturers & Models of Skid Steers
There are many different manufacturers to consider when looking to rent or buy a skid steer. Most companies make different sizes and models of skid steers to accommodate projects of all sizes and natures. All of these, including different attachments, are available for rent on DOZR.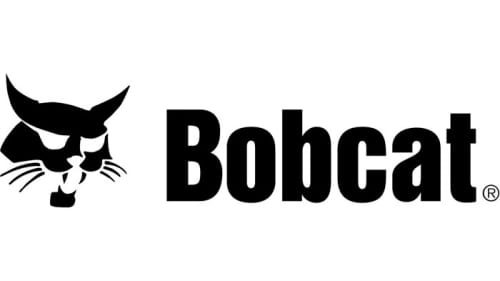 Bobcat is a company often associated with classic American entrepreneurship. Edward Gideon "E.G." Melroe had founded the Melroe Manufacturing Company in North Dakota in 1947. He died in 1955 and his sons took over the family business. They eventually joined up with the Keller brothers – inventors from Western Minnesota – and proceeded to grow the business towards machine manufacturing.
The Keller brothers would go on to invent the first ever skid steer in the form of a three-wheeled loader. The machine was specifically made for turkey farmers. They called it the Keller Loader. Melroe Manufacturing bought the rights to the machine in 1958 and both the Kellers and the Melroe's began mass production of the machine.
The name "bobcat" came in 1963 when the M444 Melroe Bobcat was first released. The name comes from the quick, agile and tough qualities of the machine – it reflected the abilities of a bobcat to a T.
Today, the term "bobcat" is synonymous with the term skid steer.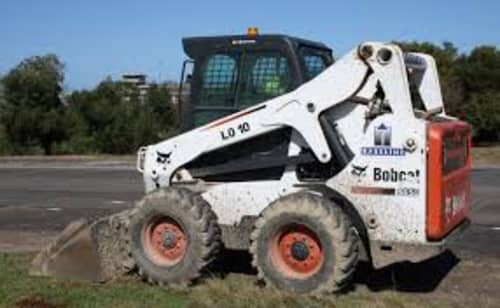 Caterpillar is a company that first began with a man named Benjamin Holt inventing the continual tracked system. Today CAT is a multinational company that is one of the most recognized names in heavy equipment.
CAT jumped on the bandwagon started by the Keller brothers and developed their own version of the skid steer. With 65 – 75 hp and operating weights up to 10,000 lbs, CAT skid steers are the versatile machine of choice on many construction and landscaping sites.

John Deere was a Mid-Western blacksmith known for the invention of the steel plow. Today John Deere is a global brand name well known for its tractors, backhoes, excavators, loaders and – you guessed it! – skid steers. With horsepower that outperforms Caterpillar, the John Deere wheeled and tracked skid steers have up to 100 hp engines and have a weight capacity up to 3,600 lbs. These mighty machines add another dimension to the versatility to the John Deere brand.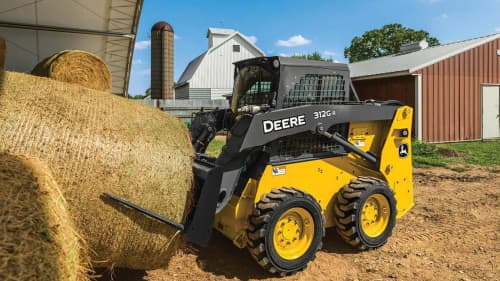 CASE was founded by J.I. Case after he worked in the field of steam engines. An invention that paved the way for engine advancements that are used today, J.I. Case and CASE Construction Equipment developed over the years, much like the steam engine did. Unlike the steam engine which is now virtually irrelevant, CASE Construction Equipment is very much alive.
Well known for their powerful and long lasting equipment, CASE now produces everything from dozers to excavators. CASE skid steers have been developed since 1969 and they celebrated their 50th year of skid steers in 2019.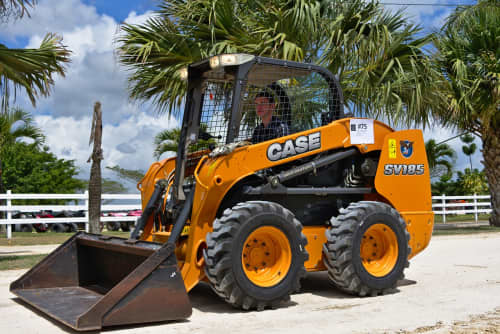 Safety Hazards & Safe Operation Tips
There are different safety hazards associated with skid steers.
Struck-By Hazards with Skid Steers
Struck-by hazards are a threat for those working around skid steers
Skid steers are often used in high traffic areas. The quick nature of skid steers make fast reversing and quick turns dangerous if the driver does not take the time to survey their work area.
Checking blind spots and using a spotter can help keep those working around a skid steer safe. Being attentive can prevent incidents like this.
Crushed-By Hazards with Skid Steers
Crushed-by hazards are another big safety hazard of skid steers. This can happen either by crushing another worker with the skid steer or by the skid steer operator themselves being crushed. Always be careful of the position of the lift-arm and frame to avoid being trapped or crushed. Never work under a raised skid steer bucket.
Be aware of where the skid steer is being operated. The cage around it should protect the driver from any falling objects or debris but always put safety first.
Pinch Point Dangers with Skid Steers
Pinch points are also common with skid steers. Always wear proper personal protection equipment (PPE) and take the time to follow safety procedures.
Rollovers With Skid Steers
Skid steers are often used for lifting heavy loads. Loads can shift and move as it is being transported and could cause a skid steer to roll. It is also possible to roll sideways when moving over uneven ground or steep grades.
Practices for Safe Operation
Always follow manufacturing guidelines and weight restrictions

Only operate a skid steer after receiving proper training

Never work under a raised skid steer bucket or arms and always lower the bucket before exiting the machine

Organize work projects away from ground personnel and always be aware of people working around the machine

Always travel with the bucket or load low to the ground

Always wear a seat belt

Always stay seated when operating a skid steer

Never lift anyone with a skid steer attachment
Which kind of skid steer is best?
In 2018 Bobcat Company said that the S650 was its most popular model with a higher lift and dump height being popular as well as the appeal of a 74 hp engine. However, like with any kind of heavy equipment the "best" skid steer will depend on the nature of the project. Knowing what the expectation is for what the equipment can do and the budget for renting or buying a skid steer it is possible to pick the "best" skid steer for you.
Instead of asking the question, "Which skid steer is best?" it is better to ask, "Which skid steer is best for my project?"
If you need help finding which equipment is best for your project, call DOZR at 1-833-774-6320.
How fast does a skid steer go?
A skid steer has an average speed of 7 – 10 mph (11.25 – 16 kph).
Can a skid steer load a dump truck?
The ability of a skid steer to load a dump truck will depend on the size of the skid steer as well as the height of the dump truck. Skid steers are primarily used to move material and heavy loads. A loader may be a better choice for loading material into a dump truck.
Choosing the right equipment for the job can help increase the efficiency of a project. Instead of using one piece of equipment that can kind of do everything, renting a few pieces of specific equipment types can help make a project more productive. Single-day equipment rentals are available through DOZR.
What is the difference between a skid steer and a bobcat?
A skid steer is a kind of equipment and a Bobcat is a brand of skid steer. However, the very first skid steer created was called a "bobcat". It is the usual go-to brand for a skid steer.
Can I rent a skid steer?
Yes, skid steers can be rented. Search for skid steers on DOZR to see the variety of sizes that are available.
DOZR works to bring heavy equipment within reach from anyone, anywhere, anytime and offers a variety of skid steers for rent for any kind of project – big or small. Rent the perfect sized skid steer loader for your job to keep a project as efficient as possible.
How long can I rent a skid steer for?
From daily to long-term rentals, an excavator can be rented for as long as it is needed. Same-day delivery (when applicable) is available on DOZR and there are different price options for daily, weekly or monthly excavator rentals.
How much does it cost to rent a skid steer?
The rental cost of a skid steer varies depending on how long the rental is for, what size of skid steer you want and the supplier of the equipment.