The Scissor Lift
If scissor lifts have been on your watch list but you want to learn more about them first, we got you covered. Everything you need to know about scissor lifts including popular jobs they are suited for and how to be safe while using one. After reading this article you will have all the knowledge you need to make the right decision.
What Is A Scissor Lift?
A scissor lift is a popular model of aerial platform lift which is used for interior work like ceiling construction, sign hanging and other maintenance projects. Scissor lifts have a lower platform height than a boom lift and often only reach as high as 20 – 50 feet.
All About The Scissor Lift
With large platforms to accommodate both people and materials, scissor lifts are popular for manufacturing and industrial projects. They provide a safe and reliable environment for workers to complete projects with heights involved.
With criss-crossing braces, scissor lifts are capable of vertical movement. This X-pattern which compresses and extends is also known as a pantograph.
What truly makes the scissor lift a valuable tool is that it can extend up and then collapse small enough to be easily stored, a value piece that made it a true rival to the traditional ladder.
Scissor lifts are available powered by an electric or diesel engine. Electric engines are better for indoor use because they do not require the same level of ventilation as a gas engine and indoor jobs are usually less intense meaning that the battery will also last longer.
Whatever the project or height, a scissor lift is a great tool to keep workers working at great heights safely.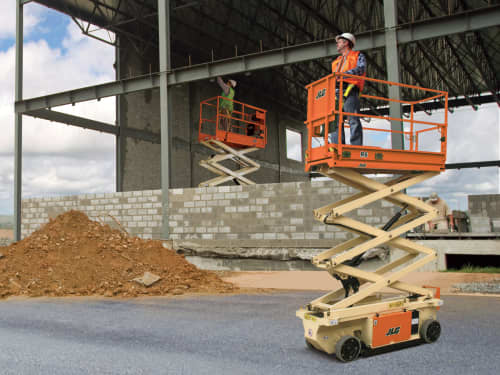 Common Uses of the Scissor Lift
Scissor lifts are better suited for certain jobs over boom lifts or any other type of aerial platform. A lightweight and easy-to-move equipment, scissor lifts are ideal for indoor projects, more so if the project only requires up-and-down mobility.
Scissor lifts are capable of working outdoors on uneven or sloped terrain. A rough terrain scissor lift was purposely made to work on rough or uneven ground to allow for safely raising workers and materials in a way that a ladder never could.
Popular Jobs For Scissor Lifts
Indoor maintenance where ceilings are higher.


IE in schools, hospitals, libraries, etc

Warehouse organization, management and general maintenance where accessing tall shelves needs to be done with a safely

Sign maintenance where a larger platform is needed for safe work

Working on sloped land or uneven terrain

Working in tight outdoor spaces where an up-down lifting motion is needed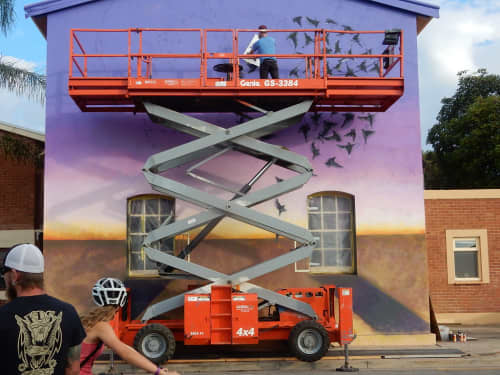 Choosing the Right Scissor Lift for the Job
The requirements of a project will determine what kind and height of scissor lift will work best. Electric motors are better suited for indoor projects while diesel engine scissor lifts will be able to give the machine the power needed to maneuver around site.
DOZR offers scissor lift rentals with platform heights from 20 – 53 feet. Knowing how high the lift must go for the project determines what kind of lift is needed as well.
Scissor lifts are also available as "rough terrain" lifts and are made to operate on slopes and uneven soil. Knowing what the nature of the job site is or will be at the time the lift will be used will assist in the selection process of "which scissor lift is best".
Be sure to ask all of these questions and plan appropriately to ensure that you get the best equipment for the job!
Manufacturers of Scissor Lifts
Since the boom lift boom, many other companies have joined Ted and JLG to start manufacturing their own lifts. Skyjack and Genie are among the two most popular but there are other brands as well.

JLG was founded by John L. Grove in 1973. The company began by making boom lifts but since then has expanded into scissor lifts, telehandlers, and trailers. JLG was the first company to commercially produce the scissor lift and has been working to improve the design ever since.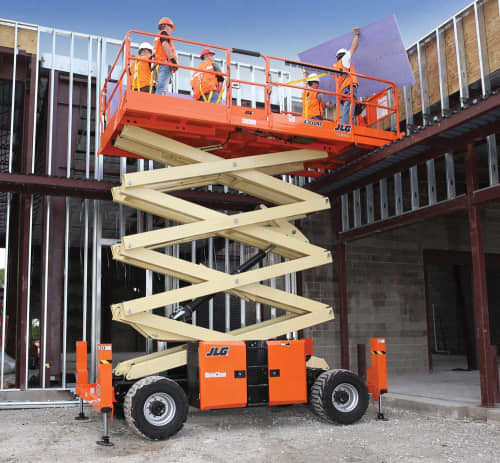 JLG offers two types of scissor lifts: electric scissor lifts and engine-powered scissor lifts. Engine-powered lifts have larger platforms, can lift more weight and can be fitted with rough terrain wheels. Electric scissor lifts are better suited for indoor projects as they have a quieter engine.
JLG makes two series of engine-powered lifts. The JLG 260MRT and the LRT series.
The JLG 260MRT is an engine-powered scissor lift with a platform working height of 32 feet. Less than 6 feet wide the machine is great for smaller spaces and working outdoors. The LRT serious is focused on having large platforms to accommodate more workers.
The ES, LE, and R series are the two groups of electric-powered scissor lifts. The ES series was made to have longer battery life and provides double the length of duty cycle over other electric scissor lifts. The R series is made for easy serviceability and advanced reliability. The LE series features rugged, non-marking tires that are foam filled to provide all-terrain access. This series is available with all-wheel drive.
Caterpillar manufactures many kinds of dozers. Their small dozers all fall under 105 hp and are designed to optimize transportability and speed while their medium dozers are designed for versatility and productivity. The D3K2, D4K2 and D5K2 are some of their smaller models while the D7E and D6 models represent their medium-sized dozers.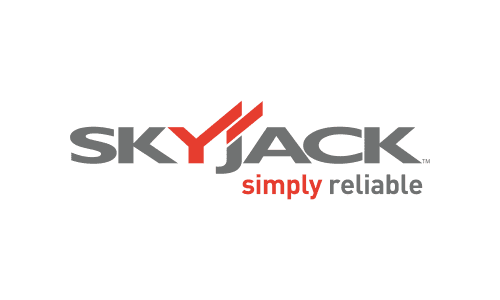 Founded in 1985, Skyjack entered the lift industry with scissor lifts. The company was acquired by Linamar Corp in 2002. In 2007 and 2008 the company got two telehandler lines from Carelift Equipment and Volvo respectively.
One of the most popular names for scissor lifts, Skyjack took it upon themselves to innovate the machine introducing the scissor lift swing-out component tray in 1987. In 2013 the company sold its 250,000th equipment piece and the 100,000 SJIII 3219 model.
The SJIII 3219 is an electric scissor lift that has all standard Skyjack lift features such as dual holding breaks, 90-degree steering, lowering warning system, operator horn, hinged railing system, and overload sensing system. This model has a working height of 23 feet and an overall capacity of 227 kg (500 lbs).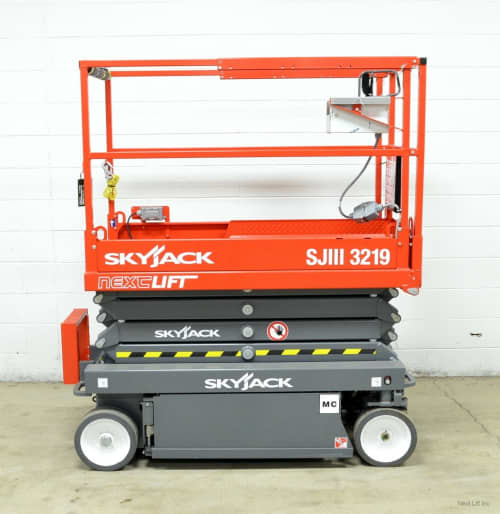 A brand under the Terex family, Genie was first founded in 1966. Bud Bushnell purchased the rights to a scissor-type lift that used compressed air to raise and lower the platform. Customers were wowed by the "magic" of the machine and the Genie was born.
During the economic downturn of the early 2000s, Genie started seeking a partner with shared values to help grow the business. This is when Genie Industries became a brand under Terex.
Genie manufactures slab scissor lifts, rough terrain scissor lifts, as well as a variety of attachments such as material and tool carriers, variations of platforms and buckets, lift diagnostic tools, and many others.
The Genie GS-1930 is a smaller electric lift with a weight lift capacity of 500 lbs. The platform can reach a maximum working height of 25 feet and is best used indoors. This machine is only 2 feet 6 inches wide so it can fit through most doorways.
Potential Hazards & Safety Protocols for Scissor Lifts
Like with any kind of equipment or when working at heights, there is a certain level of risk involved. It is always important to put safety first and follow procedure to ensure the safe operation of the equipment.
The same is true with scissor lifts. Falling from lifts, being caught between the lift and other materials and raising the platform too high and tipping the lift are all potential hazards associated with the use of scissor lifts.
Falling from a Scissor Lift
For any situation when working on a lift or in heights, specific safety protocols should be followed. Always wear a safety harness as well as other PPE. Failing to do so could result in a fall from the scissor lift platform.
Why Are Falls So Dangerous in Construction?
Falls are one of the top causes of fatalities in the construction industry. One of the "fatal four", falls are recognized by the US Occupational Safety and Health Association (OSHA) as being one of the top four causes of death in the industry. Taking the required steps to secure yourself when working at heights will help to keep you safe.
It is just as important to secure your tools and material to the platform when working at height. Just as a person could fall off a scissor lift platform, so could a hammer, drill or two-by-four. All of these incidents could not only injure the operator but seriously injure someone working around the lift.
Crushing Hazards on a Scissor Lift
Always survey the work area before raising a platform. If a scissor lift is raised too high when near a ceiling rafter, light fixture, duct system, or any other kind of obstacle, the operator is at risk of being crushed or stuck.
Always keep arms and legs within the platform and maintain situational awareness of the jobsite surroundings at all times.
Tipping a Scissor Lift
Although scissor lifts are made to raise up materials and people, it is important to never over-extend a scissor lift or to go over the weight restrictions. Scissor lifts are made to work on uneven and rough terrain but they should be done so with weight and height adaptations in mind.
Going over these recommendations or working in unsafe conditions puts the lift at risk of tipping or falling over. If at any point it does not feel safe to operate a lift, stop and wait until it is safe to do so.
Tipping can also be a hazard in extreme winds and weather when working outside. Check the weather forecast before planning for outdoor scissor lift work.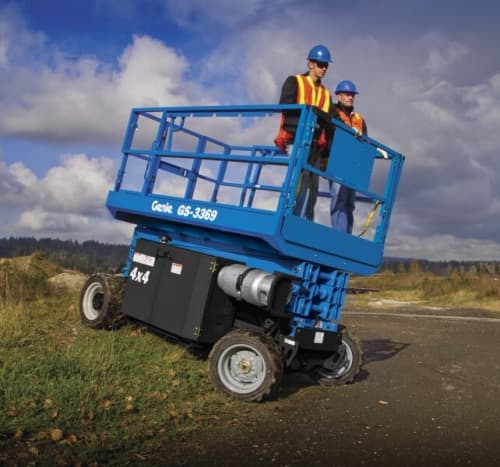 Top Ways To Be Safe While Operating a Scissor Lift
Always know where the lift's emergency stop and lowering measure is and how to use it

Never operate a lift alone

Always wear a safety harness and other PPE

Secure all tools while working on a raised platform

Always survey the job site before using a scissor lift, including the status of the terrain on which the base will be sitting and up in the sky where the operator will be working. Look for branches, hanging or exposed wires, rafters, etc.

Request proper training and never operate a scissor lift if you do not know how to do so

Never attempt to move an extended scissor lift or while another person is on the lift
The History of the Scissor Lift
The first patent request for a scissor lift was filed by Charles Larson of the USA in 1963. It is said that he based the design off the pantograph but little else is known except for the fact that this is when it was filed and in April 1966, the patent was granted.
JLG was the first U.S. company to make the scissor lift commercially available. In 1976 JLB company was able to take the Larsons mechanism of an extendable lift and turn it into an operational machine. Soon after many other companies started producing the same kind of equipment.
A Japanese company called Meikikou partnered up with American Manufacturing to begin producing scissor lifts. In the 1980s Hy-Brid lifts were manufactured and released for mausoleum use. They truly are a tool that can be used in a variety of industries
The X shape of the pantograph style makes the scissor lift a stable tool for working at heights. It also makes the extension and collapse of the equipment a lot smoother than with a single arm. The improved design patented by Charles Larson has been improved over the years with additional tech advancements. The modern hydraulic system now makes raising and lowering the platform easier than ever.
Are scissor lifts safe?
Scissor lifts are very safe and secure. However, any equipment can be made unsafe if not used properly. In order to keep scissor lifts safe, be sure to always follow manufacturing instructions and maximum weight guidelines.
Never operate a scissor lift unless you received proper training first and do not use a scissor lift if the job site is not safe.
Can scissor lifts be used outside?
Scissor lifts can be used outside. In fact, rough terrain scissor lifts were made specifically to operate on rough and uneven terrain. The tires and engine power were designed with outdoor use in mind. They can be better suited for outdoor use than a boom lift in some incidents as they do not require as much room to maneuver themselves.
Can I rent a scissor lift?
Scissor lifts can be rented. Search for scissor lift rentals on DOZR and view pricing from the entire industry in one place.
How long can I rent a scissor lift?
Scissor lift rentals are available by the day, week, or month on DOZR. You can rent a scissor lift for however long you need one for.
How much does it cost to rent a scissor lift?
Prices for renting a scissor lift can change depending on the length and location of the rental as well as who the supplier is. Search on DOZR to see all prices and rental options in one place.