What is a Backhoe?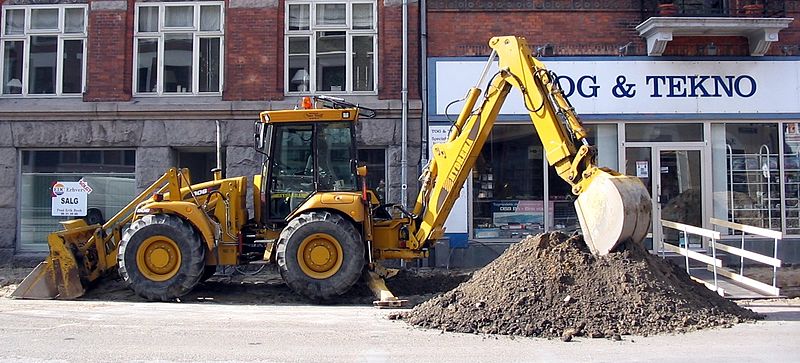 A backhoe is a multi-use piece of construction equipment that is popular among contractors. A backhoe is also known as a "backhoe loader". The digging bucket - or hoe - is also located on the back side of the cab with a loader bucket or other attachment on the front. The "hoe" mimics an old farmers hoe and was dubbed with the same name. This is why this machine is called a "backhoe" since it does in fact have a backhoe equipment attachment. The name "backhoe" comes from the movement of the arm as it digs towards the cab instead of lifting up like a shovel.
"Backhoe" is actually the name of the equipment piece at the back of a backhoe loader while the "loader" part references the loader bucket often fixed at the front of the machine. These two pieces are fixed to a cab. The cab's operator seat swivels to allow operation of the equipment either at the front or back of the machine.
Often referred to as the swiss army knife of heavy equipment, the backhoe is great for excavation and digging projects of all sizes - one end to dig up dirt and the other end to move it around. It's the machine that is great for any project. It is a popular piece of equipment seen on many job sites. Backhoes are available in many sizes and with different types of attachments. All of these can be rented on DOZR.
Using a Backhoe
With a growing commitment to increasing productivity and prioritizing equipment and project efficiency, more contractors are now choosing to rent two pieces of specialized equipment - like a skid steer and mini excavator - instead of a backhoe.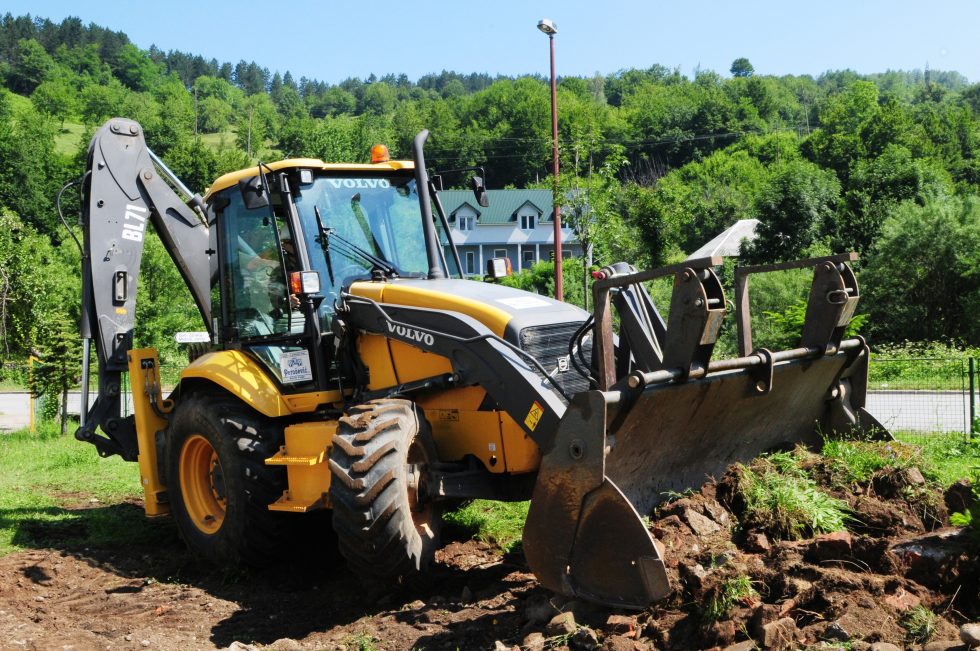 However, the multi-functionality and versatility keeps the backhoe an important piece of equipment in the construction, agriculture and landscaping industries. They are lighter and faster than a skid steer and can lift heavier loads. Backhoes are great for excavation and earthmoving projects including digging a trench, moving material or breaking up asphalt.
Backhoes are available in mini, standard, and large sizes. Contractors can search on DOZR for backhoe rentals with 70, 90 or 100 hp.
Backhoe Attachments
The backhoe can be fitted with hydraulic power attachments. This allows the machine to be used for other tasks besides lifting and digging. The most common kinds of backhoe attachments used by contractors are breakers and hammers. They allow the operator to break up rocky souls, asphalt and concrete. The tiger tooth attachment is good to break through frost or harder soil which makes the backhoe a valuable piece of equipment especially in northern climates.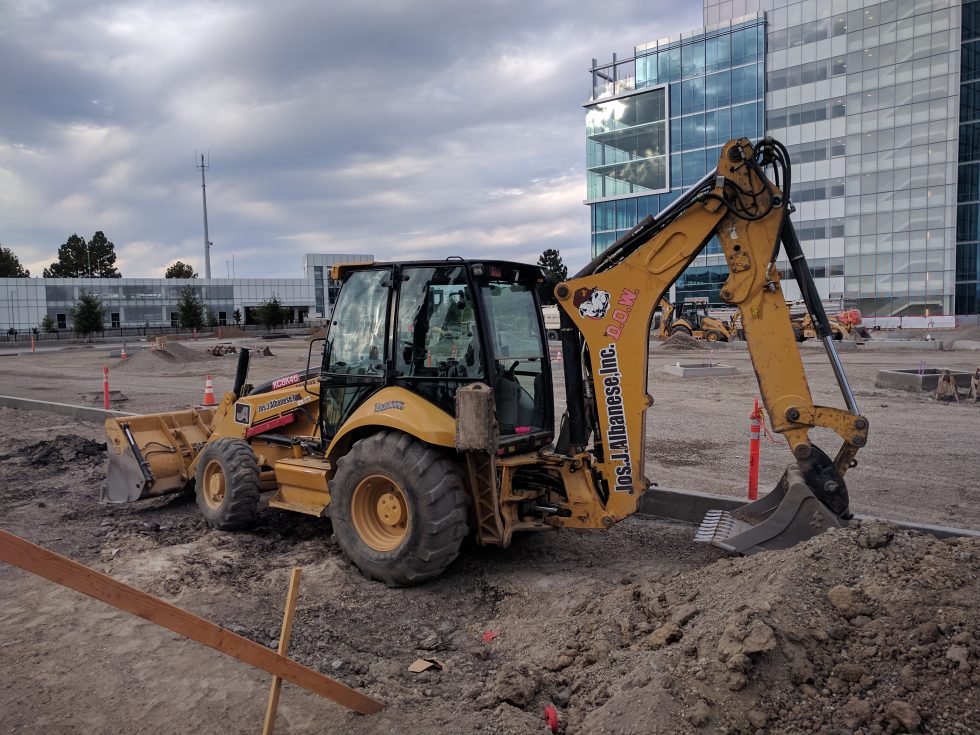 Other kinds of attachments for a backhoe include:
- Buckets with thumbs
- Hammers
- Couplers
- Compactors
- Rippers
- Brooms and street sweepers
- Snow plows and snow pushes
- Augers
Backhoe Manufacturers
The United States and Europe both have many companies that manufacture backhoe loaders. The following looks at popular makes and models of backhoe loaders.
CASE Construction Equipment
J.I. Case's work in the field of steam engines lead to the founding of CASE Construction Equipment. The company started off creating equipment for road construction and has since grown into one of North America's leading manufacturers of construction equipment.
In 1957 CASE introduced the CASE Model 320 - the first factory-integrated tractor loader/backhoe. In 2005, CASE manufactured its 500,000th backhoe.
The N-Series Backhoe Loader now offers a temporary power surge to produce up to 8% more breakout, shift 6-speed transmission with improved fuel economy, advanced drivetrain and state of the art hydraulics. In 2017 the CASE 580N Series won EquipmentWatch's Highest Retained Value Award for the second consecutive year.
JCB
Founded by Joseph Cyril Bamford (JCB) in 1945, JCB was the first to manufacture a backhoe and backhoe loader. The company has grown to be the world's leading backhoe manufacturer and producer; JCB has 22 plants on four continents. Their equipment sells in over 150 countries. Every year JCB sells as many backhoes around the world as all other manufacturers put together.
JCB's most popular loader is the 3CX 15 Super Backhoe with 109 hp engine and a bucket breakout force of 12,603 lb / ft. Their other models include the 3CX Compact Backhoe Loader, 3CX Backhoe Loader ad the 4CX-15 Super Backhoe Loader.
Caterpillar
Caterpillar (CAT) was founded in 1925 when C. L. Best Tractor Company joined with Holt Manufacturing Company. The name Caterpillar comes from Benjamin Holt's invention of the continual-tracked system. When he invented track system he called it a "caterpillar" for how it made the machine crawl along the ground. When Holt joined with C.L. Best Tractor Co. the name Caterpillar followed him.
Caterpillar manufactures both backhoes and specialized backhoe attachments to replace both the hoe and the loader. Soil excavation buckets, coral buckets, ditch cleaning buckets and rock buckets can all be attached to the backhoe. CAT also manufactures rakes, snow plows, angle blades, asphalt cutters and a material handlings that can replace the traditional backhoe loader.
The CAT 450 features a 131 hp engine, advanced hydraulic system and the CAT C4.4 ACERT engine. On the other end of the spectrum is the CAT 415F2 and 415F2 IL. These two models have a 68 hp engine. The max operating weight of the 415F2 IL is lower than the former model but they mimic each other in almost every other way.
John Deere
Launching with the creation of the steel plow, John Deere established the John Deere Company in 1837. John Deere has since grown to be one of the most recognized brand names in equipment.
John Deere now produces seven different kinds of backhoes. Their largest backhoe is the 710L with a 148 hp engine at 2,240 rpm and a max operating weight of 11,607 kg (25,588 lbs). The most compact John Deere backhoe is the 310L EP backhoe. With 69 hp at 2,010 rpm this equipment has a max operating weight of 6,270 kg (13,822 lbs), powershift transmission and a dipperstick dig depth of 4.3 m (14 ft 1 in).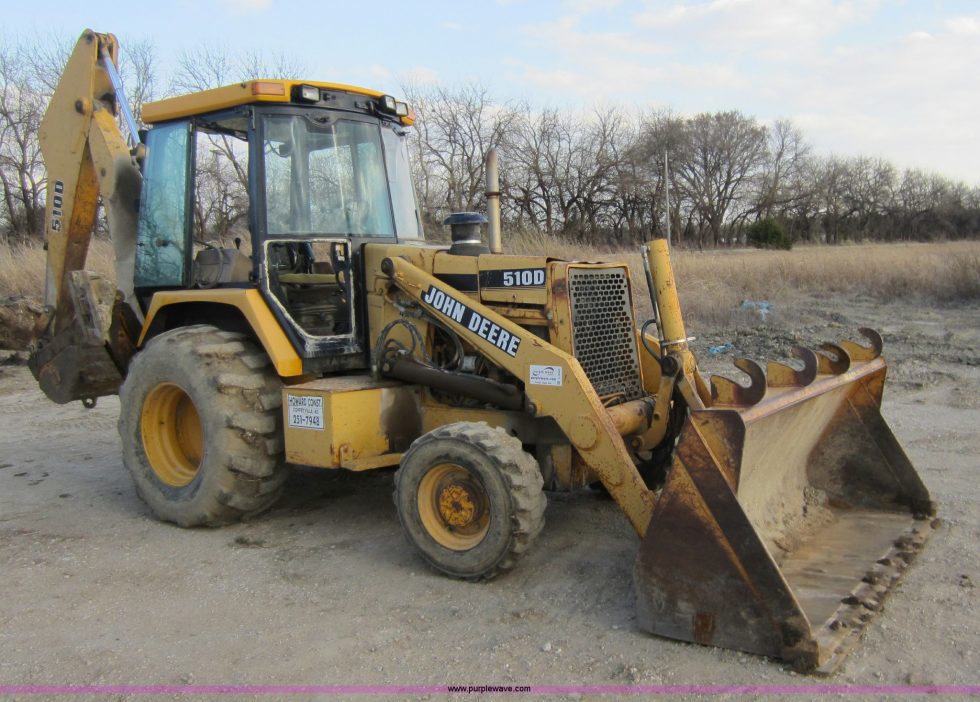 Potential Hazards for Backhoes
Like with the operation of any piece of heavy equipment, operation of a backhoe can present a series of hazards and dangers. It is always important to only operate a backhoe after receiving proper training and to never use a backhoe - or any other kind of equipment - if it is not safe to do so.
Working too close to an edge and operating on steep or uneven ground are the two leading causes of accidents for backhoes and backhoe operators. Take the planning stage seriously and always review site plans, survey a worksite for hazards and circle check equipment before beginning to operate.
Other hazards can be created by:
- Raising the bucket too high. This is especially dangerous if the equipment is on unstable ground as it could cause the equipment to tip over.
- Operating on a steep slope. Backhoes can overturn or flip over so take caution when operating on a steep slope.
- Not wearing the seatbelt. Falling out of the cab can put both the equipment, the operator, and others around the machine in danger. Always wear a seatbelt.
- Hitting an object. Especially when working on rough terrain, be aware of people, buildings, trees or other objects that may be around the equipment.
- A falling load. When lifting or moving materials, be aware of others around the bucket. Falling dirt, debris, or material can strike and injure another worker.
Putting safety first and taking time to follow procedure will help ensure that all workers go home safe at the end of the day.
Best Practices for Safely Operating Backhoes
The following is a list of best practices for safely operating a backhoe:
- Always wear a seatbelt
- Never operate a backhoe without having the stabilizers down
- Never exceed the maximum operating weight of a backhoe
- When moving loads, travel with loads low and close to the ground
- Be mindful of visibility when moving loads or material
- Always check blind spots before moving
- Never use a bucket to lift or carry people
- Driving speeds on site should stay around 5 mph (approximately 8 kph)
The History of the Backhoe
Today the market for backhoe loaders has been cut by the use of mini-excavators and skid steers. However backhoes continue to be adored by contractors everywhere for their versatility and ability to do different jobs fairly well.
The first backhoe was introduced after the hydraulic system was developed and the first backhoe swing frame was invented by Vaino J Holopainen and Roy E Handy, Jr. in July 1947. It was patented one year later and the two men came together to start the company Wain-Roy. The swing frame was a breakthrough invention which allowed the hydraulic guiding arm to swing to the side of the bucket.
The very first hydraulic backhoe was sold in 1948 by Wain-Roy Co. Sold mainly through Ford dealers, Wain-Roy sold about 7,000 backhoes between 1948 and 1954.
While all of this was going on JCB launched the first European hydraulic loader in 1948. Joseph Syril Bamford stated JBC in England with the creation of two-wheeled trailers. This advanced into a four-wheel tipping trailer with the addition of the hydraulic power system and eventually lead to the creation of the loader. The backhoe is colloquially called "JCB" in Ireland and the UK.
In 1953 JCB took their hydraulic loader and added it to one side of a tractor with the hydraulic backhoe on the other side, and the multipurpose backhoe loader was born. Although JCB didn't bring their backhoe loaders to American until the 1960s backhoes were already making an appearance.
CASE Corporation - an American company - introduced the first factory-integrated backhoe loader in 1957. With the production of the equipment on a larger scale, American contractors and farmers already recognized the power and versatility of the backhoe before JCB arrived on American soil. It took another 14 years until the extendable backhoe was introduced.
Contractors can rent a variety of backhoes on DOZR. Search for equipment on DOZR or call
1-844-997-0150 to speak to a sales team member.
Backhoe - FAQ
Are backhoe buckets interchangeable?
There are many different kinds of attachments and buckets that can be changed out to diversify the function of a backhoe. Some attachments may be subject to the size and weight capacity of the backhoe. Always check the owner's manual before attaching a piece of equipment to ensure that the backhoe is capable of handling the attachment.
Can backhoes dig in frozen ground?
There are special attachments that allow a backhoe to dig in frozen ground. Attachments like a frost bucket, hydraulic hammer, rotary cutter or static ripper can all help a backhoe to dig in frozen ground with ease.
What is the difference between a backhoe and an excavator?
An excavator is a shovel equipment that has a 360 degree rotating cab. It has an arm with a bucket attachment - or any other kind of excavator attachment - and is primarily used for excavation jobs. While excavators are primarily tracked equipment they are also available as wheeled machines.
A backhoe is a tractor cab that is fixed with a backhoe on the back and a loader on the front. Both the backhoe bucket and loader can be swapped out with other attachments. Backhoes are usually fitted with wheels and are used for minor digging projects, moving loads and materials and a number of other projects.
Backhoes are much more versatile than excavators and can be used in almost any industry.
What is the difference between a backhoe and a loader?
A backhoe features a loader bucket on the front and can be used to move and scoop materials. The difference between a backhoe and a loader is that a backhoe also features a backhoe arm and bucket on the back with the loader attachment in the front while loaders only feature the loader bucket.
Can I rent a backhoe?
Backhoes are available for rent on DOZR - search at DOZR.com or call 1-844-997-0150.
Where can I rent a backhoe near me?
Contractors can rent backhoes on DOZR. Search on DOZR.com and view pricing some every supplier in the industry.
How long can I rent a backhoe for?
Backhoes are available for daily, weekly, and monthly rentals on DOZR. Rent equipment 24/7 anywhere in North America. DOZR offers same day delivery and a rental credit account to make renting easier than ever.
How much does it cost to rent a backhoe?
Backhoes can be rented at a variety of prices. Depending on the length of the rental, the location of the rental, the equipment supplier and the equipment type, the prices can vary. View all rental prices in one place on DOZR.com.