What is a Mini Excavator?
Mini Excavators have capabilities similar to an excavator while also being able to work in small spaces. Also called a compact excavator or small excavator, mini excavators feature the traditional components of an excavator as a smaller size. Mini excavators are also given the nickname "mini ex."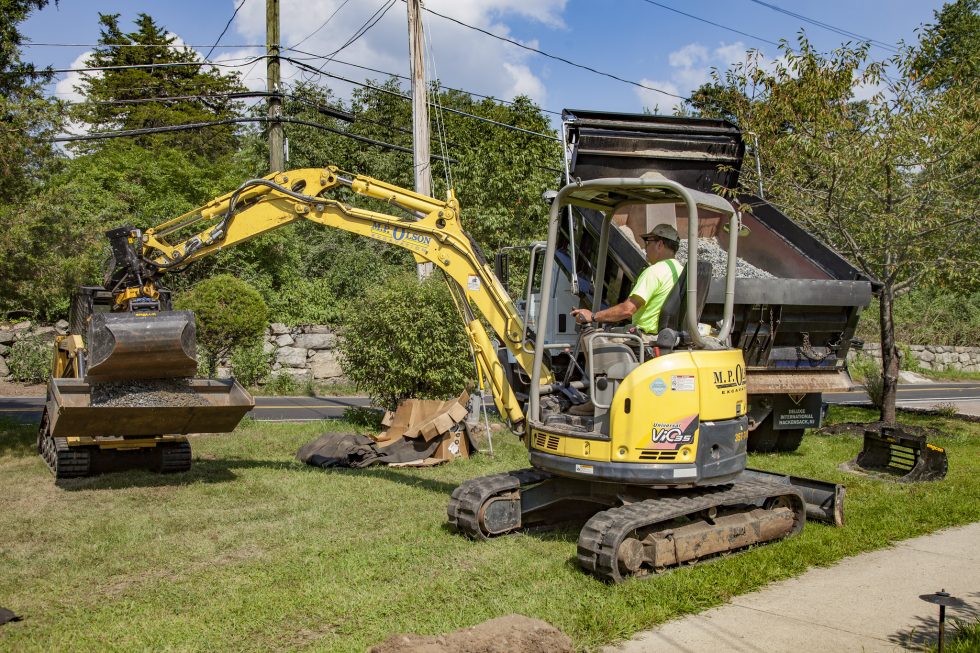 A boom, dipper - or stick - and bucket connects to a cab that sits on a rotating house. Most houses can rotate a full 360 degrees. Mini excavators can be fitted with either tracks or wheels.
Mini excavators are categorized as having an operating weight under 4,535 kg (9,999 lbs). The smallest mini excavator can fit through a doorway. Their bucket sizes can range from 12 - 24 inches and can always be replaced with another attachment to tackle any job. Many companies, however, label their mini excavators as compact excavators. Compact excavators usually have a cut-off weight of 18,000 lbs. However, most companies often group both mini and compact excavators under the same category.
Attachments for mini excavators include a dozer blade, hammer, auger, grapple or breaker.
Most mini excavators are used for light demo, material handling, stump removal, construction projects or landscaping.
Common Jobs for Mini Excavators
Mini excavators are often used for smaller projects in construction and landscaping. These include:
- installing pools and hot tubs
- plowing snow
- demoing of small buildings
- repairing sewer lines
- Tree harvesting
- Grave digging
- Home renos
- Landscaping projects
- Roadside applications
- General digging projects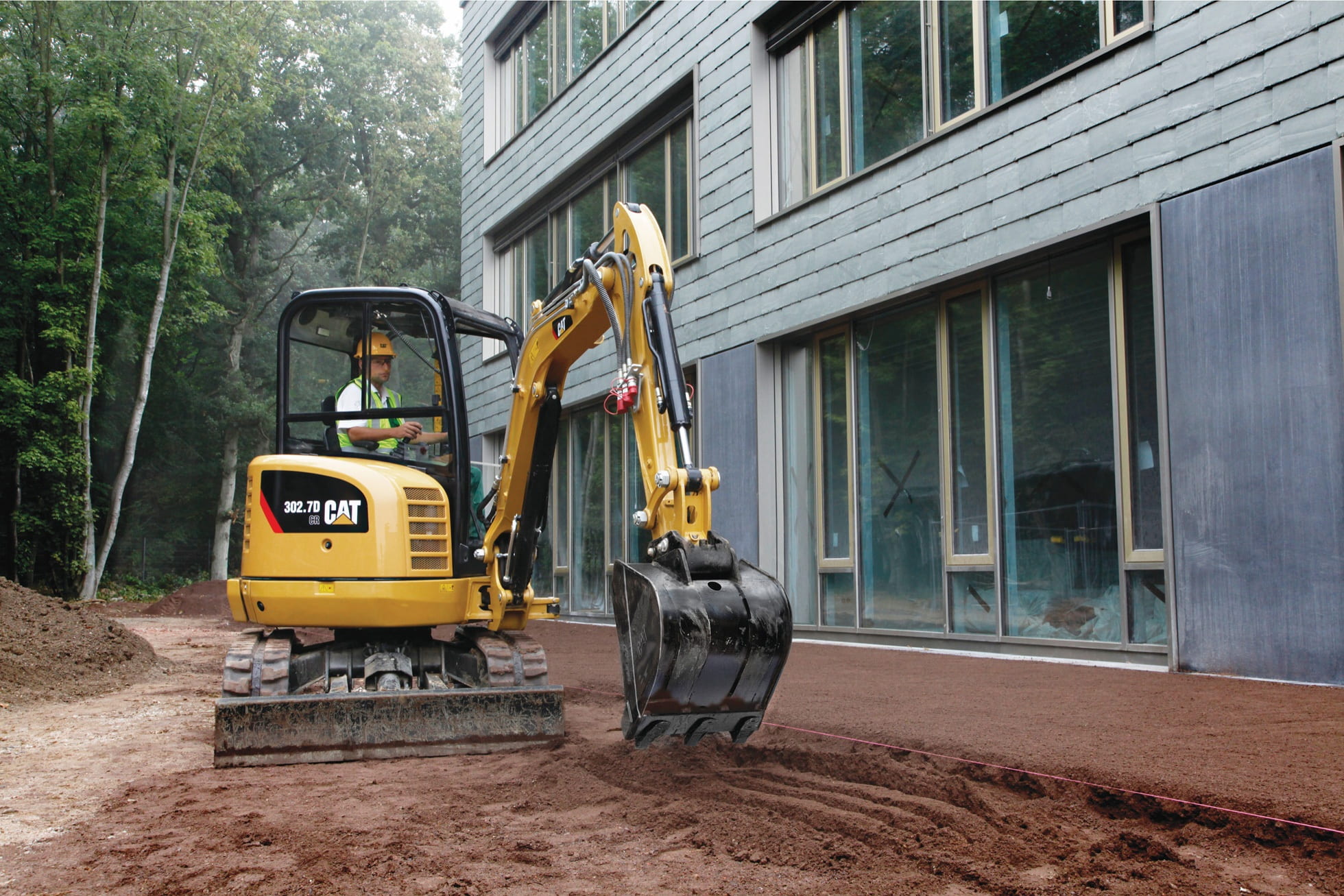 Choosing the Right Mini Excavator for The Job
The best way to find the right excavator for a project is to plan. Knowing exactly what kind of role the excavator will play on site will help determine what kind of excavator is needed. It is more efficient for a job to rent the right size equipment for what is needed instead of trying to make one piece fit for a variety of jobs.
Search for mini excavator rentals on DOZR to see pricing from every supplier in the industry or call our team at 1-844-997-0150.
Mini Excavators VS Standard Excavators
Mini excavators and standard excavators both have a time and place for best use. Mini excavators are better suited for certain jobs over a standard excavator. It is always important to choose an equipment type based off the project demands instead of personal preference. This helps to prioritize efficiency and productivity in all projects.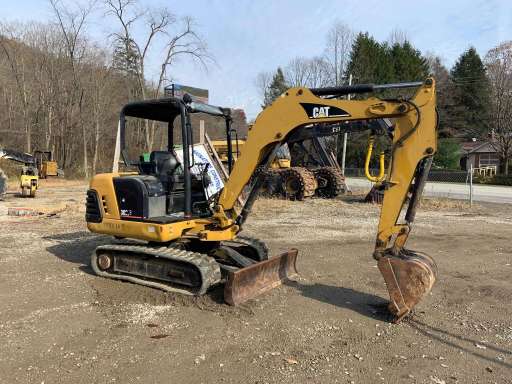 Mini excavators are smaller and lighter meaning they offer reduced top-ground damage and reduced track marks. Similar to standard excavators, mini excavators are also available with tracks or wheels depending on the nature of a project and terrain of a site.
The small size of mini excavators make them more popular for high traffic work sites or for working around other equipment types. Not only can they drive over parking lots with less hassle but are much easier to transport between projects. Even though they are lighter it is always important to check that a trailer can support the weight of a piece of equipment before loading it.
Mini excavators are usually used for less intense projects than a standard excavator meaning that they have a longer life span. Just like standard excavators they can be fitted with all types of attachments to diversity their abilities.
Renting a mini excavator on a per-project basis can be much more efficient than trying to use one standard sized excavator for all jobs. Search for mini excavators on DOZR to see the variety of sizes and attachments available near you.
Attachments for Mini Excavators
Just like with excavators, mini excavators have a selection of attachments that can replace the bucket at the end of the boom. This helps to increase the versatility of the equipment. Attachments for a mini excavator include:
- Other buckets and Couplers (4-in-1 bucket, ditching bucket, V-Bottom bucket,trapezoid bucket, Power tilt pin grab, power wedge, etc)
- Thumbs
- Rippers
- Rakes
- Hammers
- Augers
- Chuck blades
- Grapples (Rotating log grapple, rotating utility grapple, wood processing, demolition grapple, etc)
- Mini excavators can also be fitted with dozer blades to help them move materials around site. They also add a stability factor to the equipment, especially if it's a wheeled mini excavator.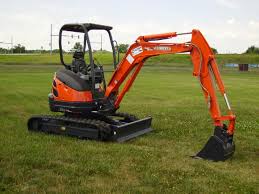 Contractors can rent a mini excavator on DOZR including a variety of attachment options . Search for equipment rentals on DOZR.com or call to speak to a team member at 1-844-997-0150.
Manufacturers and Models of Mini Excavators
Whether looking to buy or rent a mini excavator, there are a variety of manufacturers to consider. You can search for mini excavators for rent on DOZR.
Caterpillar
Caterpillar - also called CAT - was founded in 1925 when C. L. Best Tractor Company joined with Holt Manufacturing Company - the same Holt family responsible for the continual-track system. Caterpillar is one of the most recognized brands of heavy equipment and machinery and is one of the largest heavy equipment manufacturing companies in the world.
With an operating weight of 11,443 lbs, the CAT 305E2 CR is a mini hydraulic excavator with swing boom with 40.2 hp. It is a mid-range compact excavator which can be fitted with a variety of attachments to assist in all stages of a project.
Yanmar
Viewed as a birthplace of the diesel mini excavator, Yanmar offers eight different compact excavators, six of which feature a true zero tail swing cab. Designed to be fuel efficient and to provide flexibility, Yanmar considers themselves to be a leader in compact equipment.
The Vi050-6A is a compact excavator which swings and turns completely within its own track allowing the ability to dig and trench in extremely tight spaces. Featuring a 39 hp Final Tier 4 Yanmar diesel engine, this excavator has a digging depth of 12 ft 3 in and an operating weight of 10,417 lbs.
Bobcat
Bobcat grew from the creation the skid steer and is a well known manufacturer for this type of machine. Now supplying both mini and full-sized excavators, the Bobcat R-Series Excavators are designed to make digging easier than ever. With a variety of dig depth, arm configuration and tail swing style there is a Bobcat excavator for every job.
Bobcat mini excavators are available from 2,593 lbs to 18,977 lbs. Just like the Hitachi compact excavators the weight can extend beyond the standard for a "mini" excavator. The Bobcat E10, E20, E26, E32, E35 and E42 all fall under the 10,00 weight restriction to be considered a mini.
The Bobcat E35 Compact Excavator features a zero tail-swing, advanced hydraulic system and a two-speed travel feature. It is a popular mid-range model fit for any project.
JCB
With 10 different models of full-size and compact excavators JCB manufactures a variety of excavator types. Mini and compact excavators are designed to provide excellent comfort, controllability, reliability, serviceability and performance. They are the five attributes that JBC puts into all their equipment.
Precise control and an exceptional workspace for the operator, the JCB 18Z-1, 19C-1 and 8029 mini excavators are easy to transport and ideal for confined projects. The 18Z-1 is their most popular compact excavator. With an operational weight of 1,749 kg (3,856 lbs) and a dig depth of 9 ft 4 in the 18Z-1 was designed to increase profits and decrease downtime.
Hitachi
Having sold over 2.5 million excavators around the world Hitachi is known for and focused on excavators and excavators alone. They currently manufacture over 30 different types of excavators including foresters, wheeled excavators, mining excavators and shovels, construction/production excavators and reduced-tail-swing excavators.
Categorized as "compact excavators" the ZAXIS Dash-5 models is available from a max operating weight of 1,720 kg (3,790 lbs) up to 6,145 kg (13,547 lbs). The heaviest compact excavator is the ZX60USB-5 and goes slightly over the 4,535 kg (9,999 lbs) definition weight of a "mini" excavator. The Hitachi compact excavators are small and mighty tools that can be helpful on any job site.
Potential Hazards & Safety Protocols for Mini Excavators
Operating any kind of heavy equipment could pose a safety hazard. It is important to always be careful and to only operate a piece of heavy equipment after receiving proper training. The US Occupational Safety and Health Administration (OSHA) requires that any employees tasked with the operation of heavy equipment - mini excavators included - are efficiently trained to ensure safe operation of the equipment. Always ask for training and never operate a piece of heavy equipment that you have not been trained on.
Many safety protocols for mini excavators mimic those for a standard excavator. They include but are not limited to:
- Wearing a seatbelt
- Cleaning and adjusting mirrors before using the equipment
- Never transport riders in a bucket
- Surveying job site plans and the status of a work area before starting to dig
- Avoiding sudden movements
- Never dig underneath a mini excavator
- Wearing high visibility clothing, hard hats, ear protection, and face mask when applicable
- Driving on a route that is as flat as possible
- Avoiding rough and uneven terrain
Familiarize yourself with the max weight and lifting restrictions of a mini excavator before attempting to lift material or a load. If at any point it does not feel safe to operate a mini ex or any other kind of equipment stop and speak to a supervisor.
The History of the Mini Excavator
The history of the mini excavator starts off with the creation of the excavator which came from the first ever steam shovel.
The steam shovel was invented by William Otis. The equipment would travel on railway tracks and could move up to 300 cubic yards of material a day. This machine was used to build the Panama Canal and dig the foundations of early skyscrapers. The last steam shovel was sold in 1931 and hydraulic shovels took over.
Sir W.G. Armstrong & Co invented the first hydraulic system in 1882 which was then used by Kilcore Machine Co to develop the first hydraulic excavator 15 years later.
There are two separate incidents noting the creation of the mini excavator. There is the "first" mini excavator - 'the smalley' - and the first self-propelled mini excavator - the YNB300.
The Smalley Mini Excavator
Invented by Richard Smalley, this piece of equipment is credited with the very first mini excavator. With no actual engine and sporting only two wheels on a single axis, the Smalley excavator moves by the operator using the digging arm to pull itself forward on the two wheels.
These compact pieces of equipment were great for tight spaces and smaller jobs. Because they were self-walking (or could be towed behind another piece of equipment for longer journeys) they were very cost effective. Richard Smalley invented this piece of equipment in 1959.
The YANMAR YNB300 Mini Excavator
Yanmar introduced the first diesel powered self-propelled mini excavator in 1968. Founded in Osaka, Japan in 1912, the company specialized in diesel engines and also makes fishing equipment as well as heavy machinery. In 1933 Yanmar worked on producing the world's smallest diesel engine. This invention is what most likely lead to the creation of a small, compact, mini version of the excavator.
Mini Excavator - FAQ
Can a mini excavator remove stumps?
Mini excavators can be used for removing tree stumps. Using the right sized mini ex and having the right attachments to add help to make a mini excavator a great tool for a variety of jobs.
Mini Excavator VS Backhoe?
A backhoe features a backhoe digger on the back and a loader or other attachment on the front. The operator seat within the cab swivels 180 degrees to allow for the operation of the equipment either at the front or back of the tractor. A backhoe is used for a variety of jobs like digging, lifting, moving, grading, etc.
A mini excavator is a small sized excavator. It has one single arm with a bucket - or other attachment - on the end. The entire cab rotates and is mostly used for digging.
Can I rent a mini excavator?
Yes, mini excavators can be rented. Search construction equipment rentals on DOZR to see the variety of mini excavator sizes that are available. If you aren't sure which size of mini excavator is best for your job, give the DOZR team a call at 1-844-997-0150.
How long can I rent a mini excavator for?
From daily to long-term rentals there is no limit on the rental length for a mini excavator. Rent 24/7 on DOZR. You can get same day delivery and a rental credit option when renting on DOZR to help make renting easier than ever.
How much does it cost to rent a mini excavator ?
The rental cost of a mini excavator varies depending on how long the rental is for, whom the supplier is and where you are renting it. Search for a mini excavator on DOZR to view all pricing.